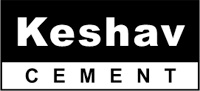 Admin Office
215/2 Jyoti Tower,
Karbar St. M. Vadgaon,
Belgaum 590005 India
Plant I
Sy. 346, A.P. Kaladgi,
Tq. & Dist. Bagalkot 587204,
Karnataka, India
Plant II
Sy. 88/3 A.P. Nagnapur,
Tq. Mudhol, Dist Bagalkot 587122,
Karnataka, India
22MW Solar Power Unit
Shri Krishna Solar Power,
Sy 241, A.P. Bisarahalli,
Tal & Dist Koppal,
Karnataka, India
Shri. Keshav Cement and Infra Limited is a reputed group manufacturing two brands of Cement – Keshav Cement and Jyoti Cement. We manufacture high quality OPC 43 grade, OPC 53 grade, PPC and PSC cements. The company is listed on a major stock exchange in India. Keshav cement operates two cement plants and a solar power unit for self-consumption and sale of excess production. Our product is well recognized and widely used in South western part of India.
The Management has over 100 years cumulative experience and is currently expanding the cement production capacity. The new capacity will go on stream by the end of 2015. Keshav Cement has inhouse R & D team to continually improve the product and services.
The management's main motto is to increase shareholder wealth by producing and delivering in eco-friendly manner. The management at Katwa Group is very Eco conscious and strives for great environment for our future generation.